Toastmasters Leadership Institute (TLI)
Toastmasters Leadership Institute (TLI) is not only for current club leaders — it is for club members who may be interested in becoming a club officer or anyone who just wants to learn more about Toastmasters!
District Leadership Roles
When:
December 8, 2020
Where: Zoom (Register Here)
Description: Ready to take your leadership skills to the next level? Come learn about the supporting cast for D37's Trio.
Contest and Judges Training
When:
January 14, 2021
Where: Zoom (Register Here)
Description: Nervous about your next contest? Want to be able to judge Division and District Contests in the future? Come learn more about contests and get trained to be a judge during this session.
Club Officers Teamwork
When:
February 8, 2021
Where: Zoom (Register Here)
Description: Teamwork makes the dream work! Learn tips for your executive board to get your club to become a D37 Distinguished Toastmasters Club.
Inventory Your Club
When:
March 17, 2021
Where: Zoom (Register Here)
Description: How is your club doing? Have you had a "moment of truth?" Discuss ideas on how to inventory your club with other clubs in the district.
Succession Planning
When:
April 22, 2021
Where: Zoom (Register Here)
Description: It's the end of the year, and you are ready to pass the baton… Is your club ready for new leadership? Learn about the Elections process and the best ways to transition your club into new officer hands.
Previous Happy Hour
Learning Sessions
Becoming a Zoom Master
Youth Leadership Program (YLP)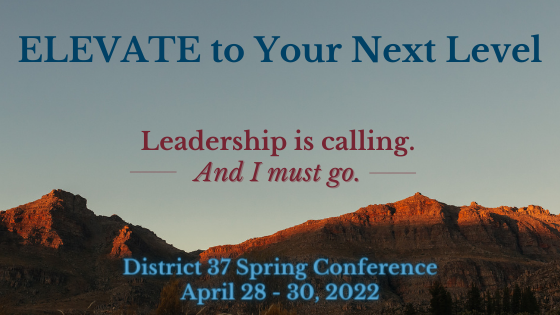 What Is TLI?
It's the Toastmasters Leadership Institute, where Toastmasters from across the district come together to network, share ideas, and be inspired. It's where newly-elected club officers receive training on how to best serve their clubs. And it's where any Toastmaster can expand skill sets as a communicator and leader with additional educational sessions.
Who Should Attend?
Every Toastmaster can benefit from attending Toastmasters Leadership Institute! Even if you're not serving as a club officer, "electives" are offered that cover a variety of topics. Our District Calendar is updated as information for upcoming TLIs and registration is submitted. Registration pages will include details for each the TLI, including a breakdown of sessions and presenters.
Regardless of whether you're a club officer, you are welcome to attend, join in the fun, and meet the leaders and future leaders of your district. Each club needs a minimum of four (4) officers to be trained during each training period (June – August and December – February) to complete Goal 9 – Training of the Distinguished Club Program (DCP). The more officers trained the more successful your club will be in meeting the needs of its members.
Please note that only officers of record may earn the club's DCP credit for their role. Earning credit is accomplished by attending a training session for their officer role and signing in on the sign-in sheet provided for that session.
Surveys
Click one of the links below to fill out the appropriate survey for the Division TLI you have attended.
Questions? Contact our District Education Chair Melissa Steadman.
TLI Event Surveys
Please fill out the appropriate survey when you have attended one of the TLIs listed below:
Division A
Division B
Division C
Division D
Division E
Division F