In Memoriam
Your presence we miss, your memories we treasure.
Thank you for enriching our lives through Toastmasters.
Hudson W. Griffin III
1966 – 2023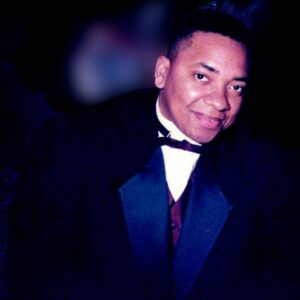 Hudson W. Griffin III, 57, passed away on Monday, July 17th, 2023, at Wesley Long Hospital, of cancer.
Hudson III was born at Ellsworth AFB near Rapid City, South Dakota, on April 8th, 1966, to Hudson W. Griffin Jr and Silva Madkins Griffin.
Upon graduating from Health Profession High School in Dallas (TX), he attended Texas A & M University (College Station) where he met his wife, Lori Ann Middleton of Lubbock, Texas. Upon leaving Texas, they relocated to Greensboro (NC) in 1998 and have resided in McLeansville, NC for over 20 years.
Hudson III was employed with AT&T, until the couple became self-employed and established IT Training & Solutions, Inc., a computer software training company.
Hudson was active member and shepherding elder of Grace Community Church; member and officer of two Toastmasters clubs, Greensboro Toastmasters and Mprovmasters; and attended Bible Study Fellowship (BSF) where he once was in leadership. He is remembered for his constant endeavors and bringing joy to everyone he meets. His was "a good and faithful servant."