What is Zoom?
Zoom is a cloud-based platform for video and audio conferencing, mobile collaboration, and simple online meetings. Zoom's web-based conferencing uses high-quality video and audio and is accessible on MacOS, Windows, iOS and Android mobile devices. Additionally, Zoom can be used with conventional phone lines or computer audio for audio conferencing. Need assistance with setting up a Zoom meeting, check out Zoom's short tutorials at https://support.zoom.us/hc/en-us.
District 37 Zoom Account
District 37 Officers
The District 37 Zoom account is only available for District Level Officers.
 Zoom Resources
Reservation Process
Click reservation button below to launch account booking site.

Click on the date from the calendar for the appointment.

Select which hour to set the appointment.  If you need more than one hour, you will have to set an appointment for each subsequent hour. 

Enter your name, e-mail and phone number.

Click on the button "Please click here to confirm this appointment."

You will receive an e-mail after your appointment has been confirmed.

You will receive a reminder e-mail 24 hours before the scheduled appointment.

There will be a link to cancel the appointment in the confirmation e-mail.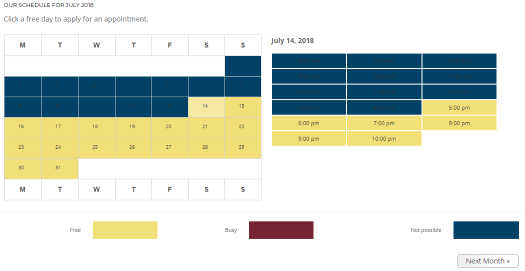 District 37 Clubs
Clubs can setup a basic account for free or subscribe to a monthly plan.  https://zoom.us/pricing